"Hey, you're one of the heroes who has beaten Baphomet, slain Orcus, and helped defeat Tiamat! Can you please go catch 200 fish for us?"
-Lonelywood Moron
I'm now a few days into the Storm King's Thunder Module in Neverwinter Online, and while it's pretty cool thus far I do have to question the inclusion of that moronic fishing quest at Lonelywood, perhaps designed by
a crazy who worships Slenderman
. It does seem to be very grindy campaign wise too, but I'll wait till I'm further along before commenting more on that. A little disappointed that there are no
living root bridges
at Lonelywood too, almost as much as learning
that AllSpice is not all spices put together
.
In blog news, I'll be starting up my Dark Souls adventure log shortly so that there's more variety than just
Skyrim all day, everyday
. What really has me smiling though is this show Juris and I stumbled on last weekend called
Thunderbolt Fantasy
. If you like anime, then give it a try. If you don't like anime - STILL give it a try because holy heck, does it have a strong opening. Even my wife got sucked in right away. Not bad for a show using dolls / puppets huh? That's it for today - not leaving a usual music clip for you this time because the music in Thunderbolt Fantasy is awesome enough. Seriously though, watch it! :P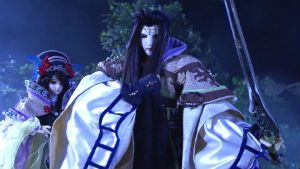 It's the best puppet show I know of!