Tales from Dark Souls - spoilers ahead! You can follow the rest of the story here!
I am surprised to find the next section of forest
guarded by people (not hollows)! It takes some adjusting to get used to their combos but with the handy bonfire I eventually have them down well enough to progress towards the ruined tower they are guarding, and it's sole inhabitant: a talking cat! The kitty is the leader of the "forest hunter" covenant (group) and invites me to join in a convoluted "ye olde" way of talking. I accept after learning it means the rest of the clan outside will stop being hostile to me! Win! :)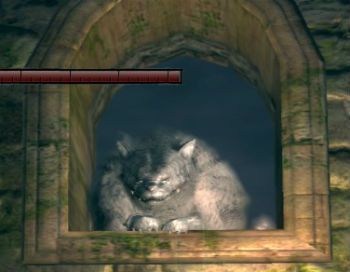 Alvinia - one sinister looking cat.
After briefly chatting to their field commander, Shiva of the East (I suppose he's a ninja?), I am free to go even further into the woods coming across a small colony of the cutest mushroom people ever. Since they aren't hostile I just leave them alone and push on until I reach a strange circular graveyard across a bridge. Upon examining a gigantic sword in the center, I am attacked by the biggest wolf ever, who so happens to be able to wield said gigantic sword.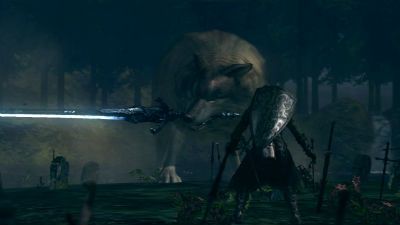 Drop! I said Drop! Uh oh...
Sif (the wolf) proceeds to thrash me a couple of dozen times before I give up and follow a winding path down to Darkroot Basin. After beating another knight and a few crystal golems I am dissuaded from hanging around by the powerful water breath of a nearby (like, rifle range nearby) hydra. Instead I opt to go into what looks to be the base of a stone tower and run smack into Club Knight again. I'm much stronger both level and equipment wise now though, and even more adept at parrying so this time I win. I take his pretty awesome ring which lets you carry heavier stuff and learn his name was Havel.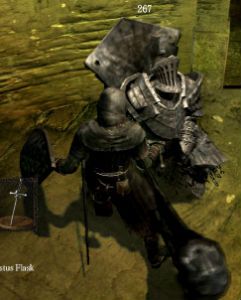 Good night, club knight!
Feeling confident with the win I make the trek back to Sif and... promptly get thrashed again. Lol.