[
Part of the Darklands of Arkania Story.
]
While the expedition is out looting stashes and fighting "Spor" (large talking snakes), the village gets a lot of visitors during the Festival of the Goat. Some old guys called the Dziody come to the party and teach
Cooper
some folklore, and a trio of knights
Ald Firstshot
,
Atheren
, and
Schulz Wenzel
arrive - confirming the eclipse was more far reaching than initially thought.
A familiar dwarf also comes later on:
Thorgrim
, having escaped Riva himself after the judge Bosper Jarnug decided to execute anyone that helped or had connections to the team during their time there. Not only did he hang
Stipen
and
Yann
, he made an alliance with the pirates and slaughtered all members of the Guild. "Do you have any good news?" quipped
Talarian
, to which
Thorgrim
nodded. He had come across an abandoned gold mine on the way over. That lifts spirits somewhat.
Lastly, the village is visited by the demon Theodore. He is impressed with what they've managed to achieve and tasks the people to cure the land from the shadowy darkness that has befallen it. He provides a location to start the quest and once more vanishes, leaving Hermit's Lake to do the heavy lifting. That's just typical.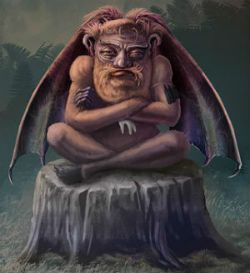 Obviously I can't do it: who else will sit on all these tree stumps!?