A refreshing, hilarious and bloody take on a Superhero movie.
If only more "heroes" just nonchalantly killed their enemies eh? At it's core Deadpool is an origin story of how Wade Wilson (Ryan Reynolds) becomes a nigh unkillable and more than slightly off-kilter hero. Again! Yes, because that previously happened in X-Men Origins: Wolverine. A fact they love bringing up throughout the course of the film.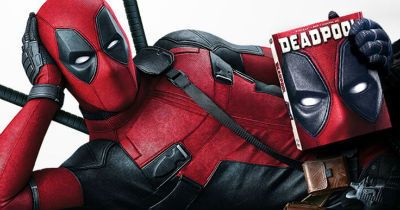 You know you want to watch it.
Perhaps Deadpool's best ability is that of breaking the fourth wall, taking many opportunities to talk directly to the audience, often about things from other movies. It's very funny with humor aimed at adults. There's also nudity, sex scenes, action, violence and on screen gore which gets big thumbs up from me.
Despite having a predictable story, the way it's told is still pretty good and the acting, humor and special effects are great. All up it is definitely something I enjoyed and a film I'd like to watch again! I give it five out of five fourth walls. Which is like... twenty walls. It's that awesome. :)