You've probably already seen a movie with Jack Ryan but didn't realize it.
The film opens with a pretty quick background on protagonist, Jack Ryan (Chris Pine) who is clearly a clever and driven guy. As with most things Tom Clancy, he is soon recruited into a secret organization and embedded undercover where he can put his intellect to work. Soon enough (*cough* after a time skip *cough*) he uncovers a potential terrorist plot and happens to become the pointman in stopping said attack which also puts a strain on his relationship with his scary face girl friend (Kiera Knightley). I normally find Kiera to be really pretty, not sure what happened to her here...
There are a number of funny bits and a few action sequences in the film, though nothing over the top though and I'm actually surprised with the rather low body count. I guess it's because he's not really meant to be field-ready? Anywho, he's in luck since the bad guys here are rather stupid. Two of them actually
let him
win / escape. Around 35% of it is also in Russian, but that's ok since it's pretty entertaining. I give Shadow Recruit two and a half out of five hidden files, but am not really keen on watching it again.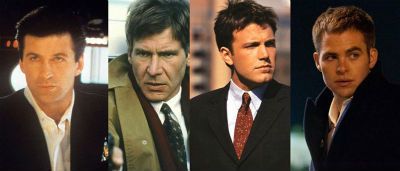 He's a man of many faces.
More interestingly, this Jack Ryan (albeit a rebooted version) is meant to be the same Jack Ryan in The Hunt for Red October (Alec Baldwin), Patriot Games (Harrison Ford), Clear and Present Danger (Harrison Ford) and The Sum of All Fears (Ben Affleck) - so he clearly has a lot of ground he can (re)cover if they decide to make a series with him. He'll need to up his combat game to make it interesting though.