Adventures of Skyrim - spoilers ahead! You can follow the rest of the story here!
Reaper's March is a breath of fresh air after
the stifling forests of Malabal Tor
. Apart from the Imperials assaulting this zone (led by Tharns no less) there's also an evil khajiit spirit called the Dark Mane (also conjured by a Tharn) raising scary looking Khajiit warriors wherever it goes. The main quest involves assisting a pair of twin sisters in stopping this threat, which is great.
Capoeira esquivas are useful here too!
Unfortunately that "threat" occupies only maybe 1/3rd of the region, with the rest occupied by local bandits, gamblers, an arena and skooma peddlers. I do get to free Barbas (the talking dog) from a prison of his master, Clavicus Vile, though. There is also an awesome side quest at a scary mansion with a massive cavern underneath occupied by Imperials who are looking for the Oghma Infinitum. Hermaeus Mora tells me they cannot have it.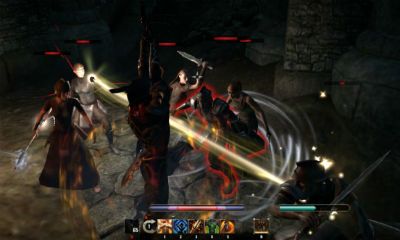 Quite a literal army of bad dudes in the tunnels.
Finally I'm at a level where I can solo handle the group of 8 or so mobs here, and manage to take down the boss too. For all my work, Mora appears and snatches the Infinitum at the last moment - rephrasing that "no mortal" can have it. I manage to retain a single page, still enough to make most people insane.
After beating back the Tharns and destroying the Dark Mane, Queen Ayrenn seems more agreeable to an alliance or at least a cease fire with the Pact but I don't know. She looks, talks and smells like a Thalmor scum. Odds that she will keep her word are next to nil.