[
Part of the Darklands of Arkania Story.
]
Team Talarian
track the drake to Vavelin Castle where they meet a peculiar man named Needler who is selling shoes and also offering to slay the beast for a price: a wife. Needler apparently knows the drakes weakness so the team agrees to let him exploit it. The weakness turns out to be sheep, and after eating one left as sacrifice the drake ludicrously fills with gas and explodes. I'm not kidding. :P
Of course,
Talarian
isn't in the business of arranged marriages so instead he convinces Needler (a sage) to join the team and maybe earn a wife the normal way. They then play some hide and seek with
Hohlick
(the rat-poodle fairy demon) who gives them a magic doll for their trouble and soon after encounter some refugees who unload more children on them, saying the kids won't survive the trek. They also mention where their old village was, not too far from the Memorial Site.
Upon reaching it they find its been over run by orcs, so doing what they do best, they assassinate the scum and loot all the stuff before saving yet another child from a wolf pack.
Striga Syl
surmises that the recent influx of children has something to do with
Hohlick's
magic doll. That night they are jumped by dwarf bandits from the nearby mithril mine, but the bandits are talked down and even share a meal with the team before returning to their underground home.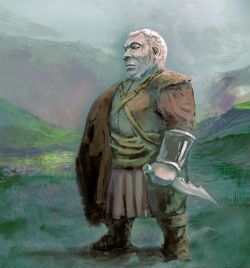 Peace is the answer...?
With their guard down,
Talarian
decides this is the best time to follow them in and slay them. MUAHAHAHAH! Did you really think I'd let criminals LIVE!? The dwarves are out of luck this time as the team murders them efficiently and proceeds to haul all their valuables back to the village.