[
Part of the Darklands of Arkania Story.
]
There are problems at the village when once again the wells are poisoned (
by the effing orcs I presume
) and
Cooper Team
is once again on the hunt for a water spirit to cure them. Hopefully
Spiral Star
is around? During this time of weakness the village is attacked by packs of wolves.
Cateaclysmic
, who was working on constructing the palisade at the time, is dragged off into the forest and eaten alive.
Meanwhile
Cooper Team
also suffered a loss:
Missy Sparks
having been slain by an aggressive mob of skeletons. Soon after they encounter Princess Zuzanna and her undead servant, most likely the source of the skeletons who killed
Missy
. It becomes clear the Princess is cursed due to her cruelty, that her own people don't like her much, and that she is looking for her ice tower. Due to the dilemma at the village,
Cooper
decides to deal with her later, saying he's never seen it before and continues on the quest to find the water spirit.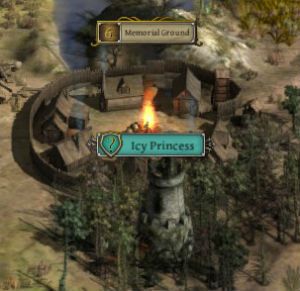 "Yup, never seen it before."
The water spirit is not as helpful this time
(guess it's not
Spiral Star
), instead being a harpy in disguise.
Cooper Team
slays the creature, but the townsfolk remain poisoned taking damage over time.